When the world has been in the starting stages of a technological revolution, India has always been in the wings. With the rise of the internet and social media (Web2.0), late adoption, conservative policy and lack of creation capability led to India's great brain drain. While the West reaped the massive economic benefits of the Internet, India was losing its engineers and thinkers to established tech giants in the USA and other countries. Web3.0 is an opportunity to change.
India is uniquely well poised to reap the benefits of this shake-up. However, policymakers continue to clash with developers, creators, and users of Web3.0 products — especially cryptocurrency. Time will tell whether India is able to ride the Web3.0 wave, or if it will be sidelined again. Web3.0, with its meteoric global market growth, isn't waiting for anyone.
Web3.0 is all about the user being in control, decentralised ownership and the internet as an experience. Three main technologies make up this industry — blockchain, tokenisation, and virtual spaces. From them arise the products that everyone has been hearing about — cryptocurrency, the metaverse, NFTs etc.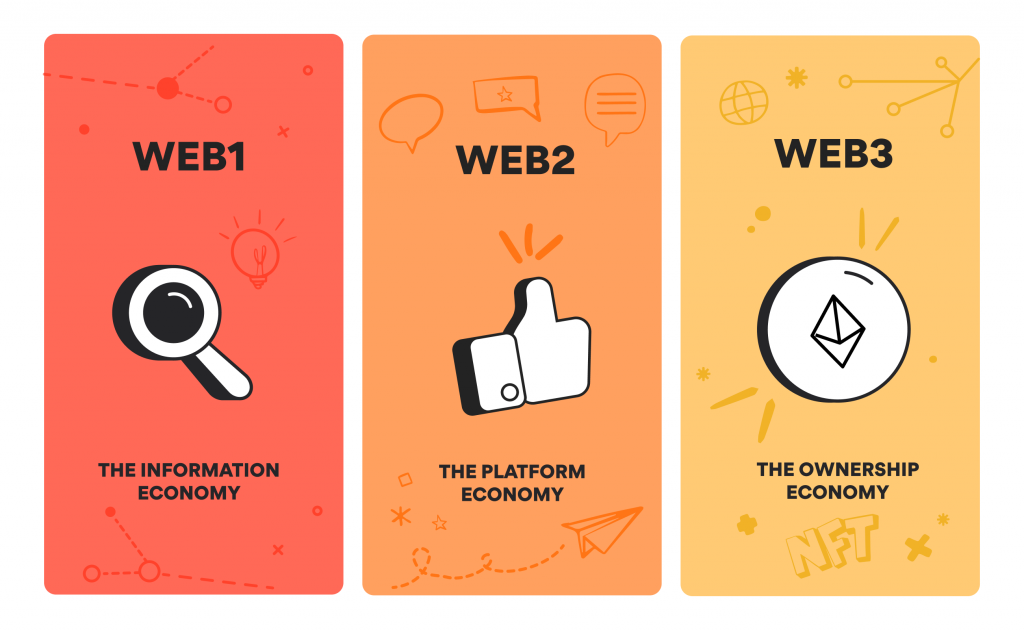 The potential for the underlying technology and products for both business and culture is incredible. Big Tech giants will be replaced with decentralised organisations where every member owns a part of the platform via tokenisation and has the power to shape it. The blockchain system allows people to build apps and platforms that run directly with the user's support, instead of the previous model, where companies farmed and sold user data to profit. It also allows secure, anonymous transactions via cryptocurrencies. 
The Web3.0 market was valued in 2021 at USD 3.1 Billion and is projected to grow more than twice tenfold by 2028 — USD 81.5 Billion. Web3.0 has become very popular with the giants of the technological and financial world. Zuckerberg's Facebook has already rebranded to 'Meta' and declared it will be shifting its focus to Web3.0. Amazon, Google, and Microsoft are also beginning to develop for the Web3.0 market. Financially, in 2021 alone, VCs globally funnelled over USD 30 Billion into Web3.0 projects. The total market cap for cryptocurrency alone crossed USD 3 Trillion. All signs point towards a powerful and rapidly growing industry.
Web3.0 projects are largely defined by their software, and currently have a high demand for software engineers and code developers to meet the investment and market demand. India is uniquely poised to meet this demand, being one of the countries with the most specialised software developers. Additionally, over 80% of India's developers are under 30 — the global average — ensuring quick adoption and specialisation. 
Unlike during the Web2.0 wave though, India has more to offer than just its developers. Some of the world's most prominent Web3.0 startups, with millions raised in funding, were founded in India. Sumit Gupta, the CEO of one such startup — CoinDCX (valued at USD 2 Billion) — said India had the potential to become "the next Silicon Valley for Web3.0". Investors are sold too, with VC firms like Sequoia India investing millions in multiple Indian Web3.0 projects. 
Although it's evident that India has both the technical capacity, entrepreneurship and investment to lead the Web3.0 revolution, this won't be the case forever. Four cities in the USA are in the top 10 cities in the world for Web3.0 creators. Countries like the USA, Dubai, and those in the EU are making their own plays in the Web3.0 market too. If India's Web3.0 and cryptocurrency policy is hostile to the space, it risks losing investment money, and most importantly, talent, to these countries. This could be the next big brain drain. 
Unfortunately, there are already high-profile examples of such losses. Polygon is currently one of the biggest Web3.0 companies in the world. After its last round of funding, which included Indian VCs, it is now valued at USD 20 Billion. And it originated in India. However, the company was then registered in the British Virgin Islands due to their low tax rates. This is the first of a rising number of examples — and a rising amount of revenue and employment lost for India. Who comes out on top in such a quickly growing and changing industry depends heavily on the first mover advantage.
The RBI delivered a damning blow to this budding industry in its early days  — April 2018. The RBI banned all cryptocurrency payments, killing a large part of India's Web3.0 market and drying investment, training, and interest in it to a trickle. Fortunately, the Supreme Court then overturned this judgement in March 2020, deeming it "disproportionate". This naturally, caused money to flood back into the market and created the thriving Web3.0 ecosystem India boasts today. 
Since then, however, the RBI has doubled down on its stance. Of the Web3.0 technologies, cryptocurrency is one of the most revolutionary, and the one with which the RBI has taken issue. Cryptocurrency has been classified as a 'speculative asset' (the same category as gains made from gambling etc.) and is taxed heavily as such — 30% flat, with 1% TDS. This is despite the cryptocurrency market being very similar to the stock market, gains in which are classified differently and taxed more leniently. 
Naturally, this high tax, and its rare inability to be offset against other losses, caused the market to dry up yet again. This is not the case of an unregulated industry pushing back against a proportionate reining in for social good. In the same 2022 Winter Budget that included the cryptocurrency tax, the RBI reiterated its intention to ban cryptocurrencies, again. 
Various RBI officials at the highest levels have made anti-cryptocurrency statements with the Deputy Governor even claiming that it is "underpinned by a philosophy to evade Government controls. This is different from what Web3.0 startups are saying, however, Indian startups are welcoming taxation and regulation, appreciating the legitimisation of their nascent industry. In fact, many of the RBI's concerns, such as those about anonymous transactions are already being handled by Web3.0 companies. The biggest coin indexes in India all require KYC protocols and grievance redressal, despite the lack of regulatory clarity. 
So it's not the tax, or the regulations, it's that they are being used to intentionally hamper an industry that could become one of India's most profitable. The cloud of a potential ban hanging in the air, and the RBI and government's lack of clarity about their Web3.0 policy have led to a significant drop in Indian Web3.0 development. As predicted, if India won't use their abilities, engineers and startups will find a country that will. 
The leader of Ecosystem Growth at one of the world's biggest crypto ecosystems — Solana Labs — has noted that several Web3.0 company founders have been moving from India to Dubai in recent years. Many of India's 4 million+ software developers have realised the value of Web3.0 and have already pivoted, and are not likely to revert despite a ban. Rather they would move on from India to work at leading companies and growing startups in competitor countries like the USA. 
In addition to its restrictiveness, India's cryptocurrency bill also betrays the government and RBI's narrow understanding of Web3.0. Since blockchain is decentralised, the cryptocurrency ban cannot extend to peer-to-peer transactions, and thus cannot be effective. It's not just cryptocurrency or NFTs, it's a technological shift that is being adopted even by 'normal' Web2.0 companies like Netflix etc.
In short, Web3.0 is projected to be one of the world's fastest growing and most valuable industries with massive potential to define global commerce and culture. India is rife with software developers, investment capital, and startups to fuel it. However, conservative or slow policy, as has been the case, could lead to losing the Web3.0 race to the USA and others. Web3.0 stakeholders and developers are ready for fair regulation and taxation, but equally ready to leave for greener pastures. India's next Web3.0 moves could define the role they play in the global economy over the next decades.